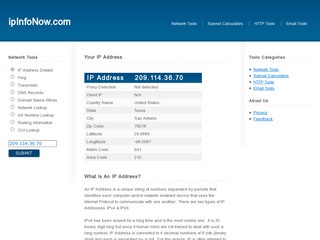 As I have mentioned in the last update, I've been busy working on a web project. Well, I think it's time to go live with it.
The website is no where near completion based on the features that I want to include but it has gotten to a point where I think it can go live now and additional features can be introduced at a later time through continuous improvements otherwise the project will never end.
Basically, the website is sort of an online toolbox for IT Professionals where you have a set of tools available at your disposal to help you in your daily work. It includes a set of tools such as: Ping, Traceroute, IP Geo Location, Proxy Detection, DNS Queries (NS, MX, TXT, SOA, PTR…), Domain Whois, Network Lookup, Autonomous System Number Lookup, Routing Information Service, OUI Lookup, Subnet Calculators…
I think it would bore you with such a long list so why don't you head on over to the site and check it out for yourself. You can reach the site at www.ipInfoNow.com.
As always, I appreciate any feedback, comments & suggestions you might have. If you have a feature you'd like to see added, feel free to let me know.